Products meeting the search criteria
With your Life, including Variable Annuity (2-14) license, you can be appointed by an insurer or Insurers to represent their company and sell life insurance and annuity contracts. You can also be the owner of your own insurance agency or become an agent for an agency.Life insurance agents are appoin..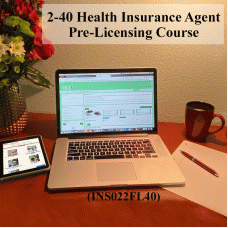 This Health Insurance Agent Pre-Licensing Course is designed to meet the requirements for the 2-40 Health Insurance license and help you prepare for the 2-40 State Exam and fulfills the educational prerequisite for a Florida 2-40 Health Insurance Agent license. With this license you will be ..
Showing 1 to 2 of 2 (1 Pages)